MITvote
A non-partisan student organization at MIT, MITvote is currently working to increase voter turnout and student engagement for the 2020 general elections.
COVID-19 Update: Make sure you are voting safely during the pandemic! See the 2020 General page for more information!
Election Day was Tuesday, November 3rd, 2020!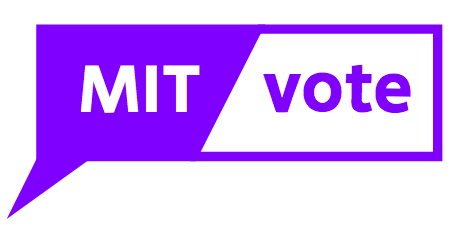 Impact of Your Vote
Unsure about whether to vote in the 2020 election, or if your vote really matters? (Spoiler: it does!).
Listen to our panel "The Impact of Your Vote: How your vote up and down the ballot affects the issues you care about" to learn from panelists about how your vote in races beyond the presidency has an impact on issues like climate change, racial justice and more!
We heard from:
Bina Venkataramaan who teaches in STS at MIT and is the editor of Boston Globe's editorial page as well as a former climate policy expert in the Obama White House.
Jared Evans, policy counsel at the NAACP Legal Defense Fund
MIT's own Charles Stewart, professor in Course 17, director of the CalTech/MIT Voting Technology Project and co-founder of the Stanford-MIT Healthy Elections Project
The panel was moderated by David Goldston, director of the MIT Washington Office.
You can find small, targeted clips of the panel on the MITvote YouTube channel found HERE.